Digital practices have changed the way we live this year – and buying a home is no exception. And while some might have expected the market to slow down because of the pandemic this year, that just didn't happen. Instead, buyers and real estate professionals turned to the virtual world to find and purchase homes. And in some cases, people bought homes without even stepping foot inside.
Today, real estate pros are using digital practices to help homebuyers and sellers walk through many steps virtually. While following the regulations set forth by the CDC as well as local guidelines, agents this year quickly empowered buyers and sellers with tools like virtual tours, 3D floor plans, high-quality photos, videos, online open houses, and more – and our team at Corbett & Co. was no exception.
Here's a graph showing some of the digital options buyers found most helpful in their searches this year, as noted by NAR in the 2020 Profile of Home Buyers and Sellers: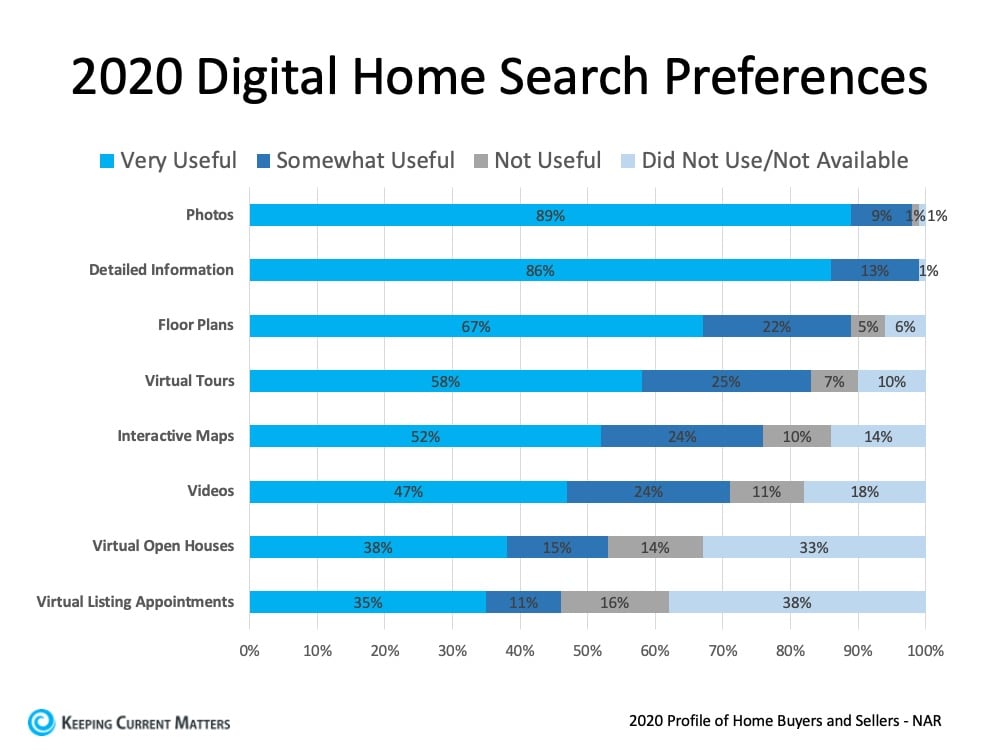 The report also mentions that buyers this year generally searched for eight weeks. Throughout that search, they viewed a median of 9 homes, but not all of them were seen in-person. Yahoo Finance notes:
"Buyers viewed five homes online and four homes in-person during the pandemic, compared to nine homes in-person in 2019, according to NAR. This was the first year NAR asked buyers to specify the number of homes toured virtually."
In true 2020 fashion, virtual practices helped buyers safely narrow down their top choices, so they didn't have to unnecessarily walk into more homes than they needed to see throughout the process.
At a time when health and safety are top priorities, technology is making it possible for buyers and sellers to move their real estate plans forward at their own comfort levels, even through a worldwide pandemic. For many, this means buyers no longer have to physically tour every home they want to see, and sellers don't need to open their doors over and over again throughout the process. Safety can come first, and trusted real estate professionals are here to help.
The Bottom Line
If you're ready to make a move, you don't have to press pause on your plans this season. Reach out to our team today to determine the safe and effective options to buy or sell a home.